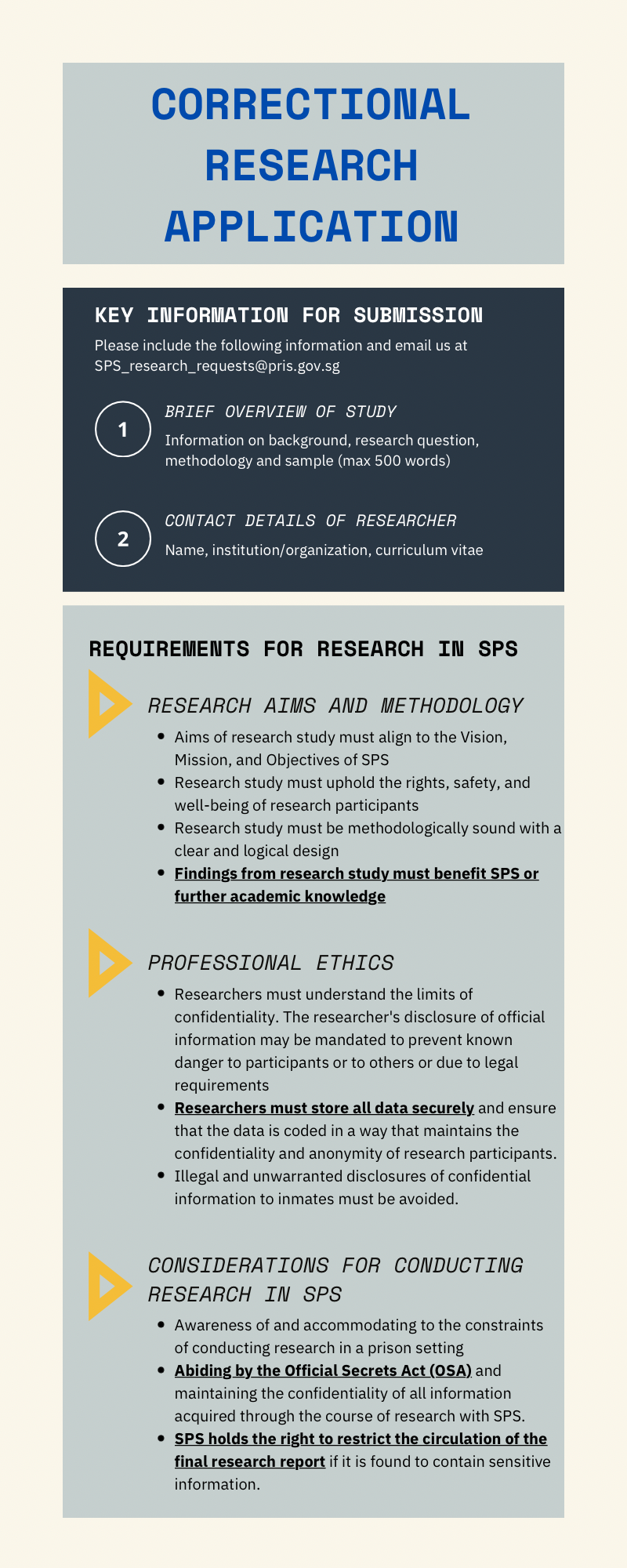 Frequently Asked Questions
Depending on the type of research and the sensitivity of information requested, the entire approval process may take up to 2 months.

The researcher may be contacted for clarification and will be notified of the outcome within 14 working days from the last email correspondence. Successful applicants will be asked to submit a full research proposal for a thorough evaluation.

First, the researcher submits a research request via SPS research request generic email account (SPS_research_requests@pris.gov.sg). Second, upon approval of the topic, the researcher submits a full research proposal. Third, upon approval of the proposal, the researcher is required to attend a briefing session prior to the data collection. An assigned SPS research coordinator facilitates the researcher's data collection within prisons. Fourth, upon completion of research study, the researcher submits the completed research paper for vetting by SPS prior to submission or publications.

Please refer to the research request process and researcher' manual in this website for more details

A Research Officer from Singapore Prisons Service will be the point of liaison for all data collection sessions. This Research Officer will be in charge of all administrative arrangements with the institutions such as time and date of each data collection. Once the session is confirmed, the Research Officer will send an email to you with the details.

For high risk inmates, the interview or data collection session can be conducted using the interview rooms which have a glass panel separating the inmate and the interviewer. The inmate can also be handcuffed if the need arises.

There are a number of closed-circuit security cameras around the institution and a prison officer will be present or on patrol near the area to ensure any visitor's safety. Lastly, shrill alarms and emergency call buttons are available should you need to summon assistance.

Researchers are required to dress conservatively when entering the institution. Researchers in revealing clothes will not be allowed to proceed with their data collection. Researchers are not allowed to bring in any items that are not related to the data collection session. These includes, but are not limited, to cash, keys, mobile phones and water bottles. These items must be stored in a locker at the entrance to the institution. Researchers are also expected to behave in a professional manner throughout their time in the institution. More details will be provided once the studies have been approved.